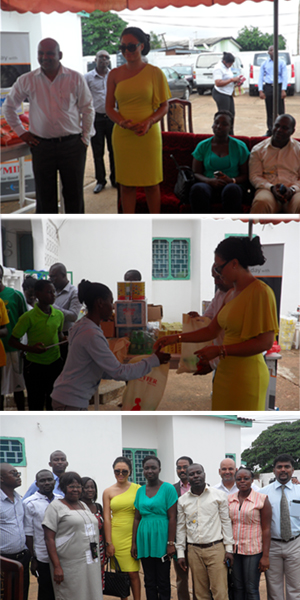 TIL Supports Teshie Orphanage in GHANA
08 May 2013
Accra, May 1, GNA – TIL healthcare – international arm of Tablets India Limited an Indian pharmaceutical company on Wednesday presented medicines and food beverages worth GH¢ 25,000.00 to the Teshie Orphanage.
In addition, the company screened children of the orphanage to check their health status as part of activities marking this year's May Day celebration.
Mr Vignesh Pakkam Loganathan, Deputy General Manager of TIL said TIL considers the gesture as part of its cooperate responsibilities towards mankind and also as part of its business diversification process.
He said TIL has developed a strategic cooperate responsibility venture to aid socially exclusive and vulnerable groups as a market penetrating initiative to contribute and support Ghana's development.
Mr Loganathan said building a product brand through unique formulations such as supporting needy institutions and communities has over the years pushed TIL as amongst the top 40 companies in India.
He said TIL brand product is marketed across 54 countries in four continents.
He classified Ghana as a strategic market for TIL, saying: "Ghana is among the first countries markets for TIL products as such we do not joke with the people…Ghana is part of the development of TIL international market.
"Through the strength of our long associated brands of Apetamin, Astymin, Astyfer we have also introduced products like Peglec, Bifilac, Neutrosec, Calflavone and several others."
Mrs Janet Parker, Mother of the Orphanage who received the items expressed gratitude to the company and urged other benevolent persons and organisations to assist the home.
---
Source: GNA Story (http://www.ghananewsagency.org/human-interest/tablets-india-limited-supports-teshie-orphanage–59631)
Published: 2013-05-01 18:12:04
© Ghana News Agency